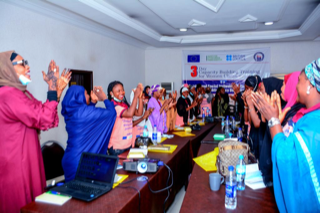 GENDER AND SOCIAL INCLUSION MAINSTREAMING IN PUBLIC POLICY FOR WOMEN CHAMPIONS
INTRODUCTION
The Organization for Community Civic Engagement (OCCEN) organised a 3-Day Training on mainstreaming Gender and Social Inclusion in Public Policy for Women Champions, a combination of young girls and women. This effort on strengthening civil society participation in public policy decisions in Kano State was supported by Agents for Citizens-driven Transformation (ACT) project implemented by European Union through British Council. The aim of the training was to create an enabling environment in which marginalized citizens (women, youth and people with disabilities), Civil Society Organisations and power holders can interact and engage each other on matters of promoting good governance, participation in policy decisions, demanding political accountability, and inclusive governance in Kano State.
Women, girls and PWDs are almost totally excluded from policy decision-making within their communities and the society in general; access to platforms where their priorities/needs can be channelled through such as active CSOs, public policy dialogue mechanism, and formal representation are weak.
Socio-cultural contexts as well as the fact that policy makers and service providers do not feel accountable, and are not responsive to women, girls, PWDs' priorities, serve as major factors for their lack of access to services and their inability to contribute to decision-making.
In view of this OCCEN with support from EU-ACT aims to strengthen the capacity of women, girls and PWDs to be better organized, identify their priorities, articulate their demands and engage policy makers for equitable participation in the policy making process in Kano State.
As a result, OCCEN invited thirty (30) Champions of marginalized groups (15 each for women and adolescent girls) for capacity building sessions on the following topics:
Gender and Social inclusion
Public Policy Making Process
Civic Education
Communication and Confidence Skills
Participatory Needs Analysis
Prioritization Skills
Leadership Skills
DAY 1- 5TH NOVEMBER 2021
After registration, introductions, and the overview of the project, participants were pre-evaluated on the Gender and Social Inclusion Mainstreaming. The participants were guided to differentiate between the concepts of gender and sex and understanding relevant gender concepts like stereotype, mainstreaming, equity, equality and social inclusion.
The second session focussed on the Introduction to the concept of Public Policy Process. In this session, participants were guided to understand the policy process and how they can contribute to the process. Group exercise on how they can contribute as sources of public policy was done. The participants were also engaged in a group exercise, which they actively participated and made presentations indicating understanding of the concepts.
DAY 2- 6TH NOVEMBER 2021
The session commenced with a recap of the previous day's sessions by the participants, and corrections were made. Two sessions were conducted on Participatory Needs Analysis and the Concept of Prioritization as they relate to gender mainstreaming in the policy process. Each session concluded with a group work and presentation by the participants. Participants actively contributed to the group work and made presentations thereafter.
DAY 3- 7TH NOVEMBER 2021
The recap of the second day by the participants was witnessed by the representative of ACT. She engaged the participants to ascertain the effectiveness of the training. Three sessions were conducted: Communication and Confidence Skills, Concept of Leadership and Leadership Skills as well as understanding the Concept of Civic Education. Practical demonstrations of communication barriers, lack of self-esteem was made, while the Executive Director of OCCEN guided them on the process of Community Civic Learning and OCCEN's expectations of their engagement of the communities around them. The session was closed with group photographs.
Attached are the power point presentation slides used to guide the facilitations.
Thank you for the opportunity to train and engage with these active and passionate champions.
Professor Aisha Abdul-Ismail
AN END OF PROGRAM COMMUNIQUE WITH RESPECT TO A ONE-DAY ROUNDTABLE DISCUSSION ON ELECTORAL ACT AMENDMENT ORGANISED BY ORGANIZATION FOR COMMUNITY CIVIC ENGAGEMENT (OCCEN), ITS DEMOCRACY DRIVERS NETWORK (DDN), AND NORTH WEST CIVIL SOCIETY SITUATION ROOM
Date: Tuesday, 9th March, 2020
Venue: Prince Hotel, Kano
Time: 9:30am-2:30pm
At the end of the program participants have come up with the following resolutions:
That section 3 of the Electoral Act 2010 be amended by inserting a new subsection to read "The electoral expenses due to the commission for any general elections shall be released to the Commission at least 12 months to the day appointed for the elections."
That section 71 of the of the Electoral Act 2010 be amended to read "The commission shall cause to be posted on its website or any other accessible platform the official election result which shall include the polling unit's level results immediately after the official declaration of results
That section 56 (2) of the Electoral Act 2020 does not guarantee the accessibility of Persons Living with Disabilities (PWDs) to the polling unit. Therefore to include PWDs, section 56(2) should be amended by changing "may" to "shall" to mandate the commission to make adequate provisions for persons with disability in the voting process
That to promote inclusion in political party primaries and reduce the influence of money in our elections, section 87 (2)(3)be amended by inserting a new subsection (2) to read: "A political party shall not impose nomination qualification or disqualification criteria, measures or conditions on any aspirant or candidate for any election in its constitution, guidelines, or rules for nomination of candidates for elections, except as prescribed under sections 65, 66, 106, 107, 131, 137, 177, and 187 of the constitution of the federal republic of Nigeria, 1999 (as amended).
That for the purpose of the nomination of candidates for election, the total fees, charges, dues, and any payment howsoever named by a political party on aspirant shall not exceed:
For a ward councillorship aspirant
For an area council chairmanship aspirant
Three hundred thousand naira (N300,000) for a house of assembly aspirant
Five hundred thousand Naira (N500,000) for a House of Representatives aspirant
One million Naira (1,000,000) for a senatorial aspirant
Two million Naira (2,000,000) for a governorship aspirant
Five million Naira (5,000,000) for a presidential aspirant
That section 31(1) of the Electoral Act 2010 should be amended by inserting a new subsection (2) to read: "Every political party shall include women, youth, and persons living with disabilities in the list of candidates it seeks to sponsor in an election. Provided that not more than two-thirds of the candidates shall be the same gender.
That section 87 of the Electoral Act 2010 be amended to ensure that the list of delegates eligible to vote in all party primaries and conventions are made to up of not less than 50% of any gender
That section 100 of the Electoral Act 2010 should amended to compel public media (broadcast and print) to grant marginalized groups, particularly women, youth and persons living with disability (PWDs) special discounted airtime/advert rates during election campaigns
That section 104 of the Electoral Act 2010 should be amended to provide that the chairman and vice chairman are not the same gender, and the age qualification for the chairman and vice chairman shall be 25 years.
6. That section 49 (2) of the Electoral Act 2010 be amended to empower the Independent National Electoral Commission (INEC) to adopt technology in the accreditation of voters to verify, confirm or authenticate a voter. This will limit multiple voting or voting by proxy.
That section 52(2) of the Electoral Act 2010 should be amended to adopt electronic voting in the conduct if election by replacing subsection (2) with "The commission may adopt electronic voting or any other method of voting in any election it conducts.
That section (65) of the Electoral Act 2010 be amended to legitimize electronic collation and transmission of election results from the polling units by INEC.
7. That section 124 of the Electoral Act 2010 be amended to impose stiffer sanctions for bribery and vote buying. Anyone convicted for this offence shall be liable on conviction to a maximum fine of N1, 000, 000 and 12 months imprisonment.
That section 125(4) of the Electoral Act 2010 should be amended to read: "Any person acting contrary to the provisions of this section commits an offence and is liable on conviction to a maximum fine of N500, 000 or to imprisonment of for a term of 12 months or both.
That section 100(6) of the Electoral Act 2010 be retained to ensure penalty for violating the provisions of the section are restricted to the offending entity (the media house). It should not be extended to journalists, broadcasters, and other members of the media house.
8. That section 29(3) of the Electoral Act 2010 should be amended to read: "Security personnel deployed for the purposes of the registration of voters or elections shall abide by the Inter-Agency Consultative Committee on Election Security (ICCES) Code of Conduct and Rules of Engagement for Security Personnel on Electoral Duty. Any security personnel who violates the Codes of Conduct and Rules of Engagement on electoral duty commits and offence and shall be liable on conviction to a demotion in rank, dismissal, fines, or imprisonment.
9. That section 25 of the Electoral Act 2010 be amended by inserting a new subsection (3) to read: "In an election into any of the offices in subsections (1) and (2) above, the commission shall allow a person to apply for and cast a special vote prior to election day, if, on election day, that person cannot vote at a polling unit where they register as a voter because:
Such a person being a member of an accredited observer group
Such a person being an accredited media personnel
Such a person being on duty as a member of the security agency on duty as it relates to an election; or
Such a person being on duty as an official of the Election Management Body
ADDITIONAL RECOMMENDATIONS
At the end of the 1-day program organized by OCCEN participants have, in addition to providing alternative suggestions to the Citizens' Top 10 Priorities on Electoral Act Amendment, raised the following issues for consideration:
That relevant legal frameworks should be strengthened to ensure strict observance of internal party democracy across all political parties
That the sales of Expression of Intent Form by political parties should be delegitimized to reduce cost of buying into elected positions
That the electoral procedures leading to the cancellation of election results should be reviewed to remove any prospect of an 'inconclusive election'
That security mechanisms should be put in place to ensure that voters are not intimidated or harassed before, during, and after elections
That an Electoral Violence Tribunal should be established and be mandated to try and convict all electoral offenders
That the right of appointing the chairman and national commissioners of INEC should cease to be the prerogative of the presidency
That the conduct of local government elections across the 36 states of the federation should be superintended by INEC instead of state owned Electoral Commissions
That more Polling Units should be created across the 36 states of the federation in order to accommodate emerging settlements and ballooning population
That there should be an active civil society engagement in drafting new INEC operational guidelines
That a law should be made to ensure the presence of security personnel in all Polling Units in Nigeria
Signed
Organization for Community Civic Engagement (OCCEN)
Democracy Drivers Network (DDN)
Northwest Civil Society Situation Room