Why there would be voter apathy in Kano and Nigeria come 2019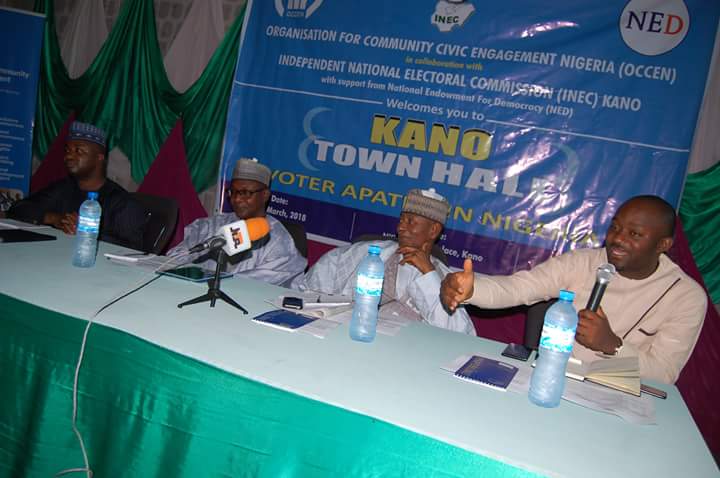 As the 2019 general elections draws closer, unchecked excesses of followers of political parties in the form of political violence, intimidation and harassment of citizens could lead to voter apathy in the forthcoming elections in Kano state, says Ubale Jakada Kiru, a former member of Nigeria's House of Representatives.
As the 2019 general elections draws closer, unchecked excesses of followers of political parties in the form of political violence, intimidation and harassment of citizens could lead to voter apathy in the forthcoming elections in Kano state, says Ubale Jakada Kiru, a former member of Nigeria's House of Representatives.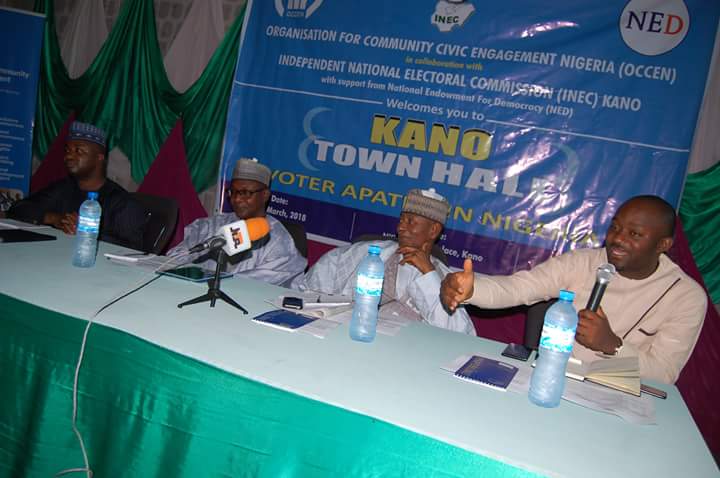 Kiru, a member of the opposition Peoples Democratic Party (PDP), was speaking at a town-hall meeting on voter apathy in Nigeria organized by the Organisation for Community Civic Engagement (OCCEN) in collaboration with the Independent National Electoral Commission (INEC) held Thursday in Kano, Nigeria.
"Political violence will lead to voter apathy, politicians from the ruling party [All Progressives Congress] in Kano state are sponsoring thugs who accompany them to campaign rallies and therefore terrorize citizens. The fact that politicians from the ruling party are not being punished for engaging in political violence means voters may be scared away from polling units in 2019," said Kiru.
Prof Haruna Wakili of the Aminu Kano Centre for Democratic Research and Training of Bayero University, Kano said bad governance could also lead to voter apathy, which he said manifest in different forms including citizens refusing to register and acquire their voter's card, or registering yet refusing to collect the voter's or even refusing to turn up at polling units on election day, after registering and collecting their voter's card.
"Bad governance is responsible for voter apathy, this is because the voter is not sufficiently educated to understand that he can vote out bad leaders, hence will resort to apathy. The masses need political (civic) education by the political parties and INEC," said Wakili.
In his response, INEC's resident electoral commissioner in Kano state, Prof Risqua Arabu Shehu acknowledged the fact that INEC had the major responsibility when it comes to voter education adding that the election management body was grateful to civic organisations such as OCCEN for supporting their work.
"The most important element in a democracy is allowing qualified citizens to elect leaders, for someone to be able to elect leaders they must be eligible to vote. The fundamental reason for apathy is people's lack of confidence in the electoral process. Prior to 2015, there was a lot of irregularities with our election process hence voter apathy; people thought their votes won't count," he said.
Prof Shehu said for Nigeria's democracy to grow, the country's political class must change; they "need to change their approach to democracy. Politics must not be a 'do-or-die' affair and hence voter apathy. The civil society also needs to enlighten the citizens on the need to register and vote during elections."
TOWN HALL MEETING ON VOTER APATHY IN NIGERIA
March 22nd March, 2018
NIIMA Guest Palace, Kano
Introduction
The town hall meeting tagged "Voter Apathy in Nigeria" was organized at the instance of Organization for community civic education engagement in Nigeria – OCCEN, for Independent National Electoral Commission – INEC, political party chairmen and chairwomen, civil society organizations, media and citizens' groups in Kano.
The event had participants drawn from different political parties, leaders of civil society organizations, Community based organizations-CBOs, people living with disabilities-PWDs, and other stakeholders.
The meeting stared at 10:20am prompt with opening prayer from a volunteer.
Opening remark:
Abdulrazaq Alkali, Executive Director, OCCEN welcomed participants to the meeting expecting they had had a safe trip to the venue and all things being equal, everybody is in high spirit for the event.
He gave a brief background of OCCEN and says the need for conducting the town hall meeting is informed from the successful conduct of elections five times in Nigeria but voters interest is declining; the need to meet and brainstorm to proffer suggestions as to how to approach the 2019 general elections.
Opening brief:
In his opening remarks, the Director, AKCDRT, Prof Haruna Wakili thanked OCCEN for organizing the civic education on voter apathy as a topic well placed in the scheme of affairs of election in Nigeria. Political indifference is not jst particular to Nigeria, it is a global issue but in the case of Nigeria is Bad governance; promises made and not kept during campaigns. Good governance can solve the problem of declining to register, refusal to pick PVC, refusal to turn up at election and not participating in civic education or activities.
The opening brief on "Importance of voting during election" by Kano State INEC Resident Electoral Commissioner, Prof Riskuwa Arabu Shehu thanked the organizers for assisting INEC in discharging its mandate, though INEC alone cannot do the job; he wished for further collaborations and partnerships in the voter education.
He says the important element that keeps democracy going is allowing citizens to exercise their rights but that cannot be done without being qualified as stated in the constitution of the federal republic of Nigeria, but people must importantly present themselves to register and vote.
Apathy to vote is a global thing but there are reasons or fundamentals for voter apathy, these reasons are different to different people though apathy emanate from the process of registration to vote casting; political parties have a lot to do in checking or reducing voter apathy in Nigeria.
Nigerians have to have a rethink in the service to state and country at large.
Presentation:
Samson Itodo, Executive Director YIAGA made a presentation on "Motivation and Challenges of Youth Participation in Election". In his presentation he highlighted that reducing voter apathy has started in Kano by OCCEN organizing the town hall meeting but the greatest threat to democracy and the electoral process are they politicians. This is across the globe as voters are declining on a daily basis during elections.
He says there has been some level of improvement in the electoral process in Nigeria and it would even get better.
Youths and all citizens must get involved in the political process and participate actively too as only through such engagement can the desired democratic values will be achieved.
He says the reason why people go out to vote is they want good life, the dividend of democracy; people believe they go out to vote and vote in good leaders that will bring goodness to their lives.
They only way to show interest in the affairs of the state is to administer resources judiciously is to vote as the society is structured in a manner that makes everyone an activist; so, the greatest motivation is how do we restructure the system for a common good?
He rounded up with the challenges of youth participation in election to structured, individual, organizational and the cost of politics.  
Recommendation from discussions:
The collaboration between INEC, CSOs and Media should be strengthened so as to enlighten voters who are yet to collect their PVCs to go to designated centers and collect their PVCs or register
Promises made during campaigns by political parties should be kept or fulfilled
Electoral laws are a part of reason for voter apathy; the laws should be amendment
Politicians should come out themselves during election to encourage electorates and voters to vote
Participants should take discussions of the town hall meeting seriously by encouraging eligible voters to register and vote during elections; if their vote counts after election, voter apathy will reduce.
Media and other stakeholders should always discharge their duties and responsibilities with utmost trust and honesty.
Political party leaders and politicians should mobilize party faithful and encourage them to go out and vote without causing fear, threat or violence to others
Security agents should live up to their task of protection, arrest, prosecute and be neutral before, during and after elections
INEC should engage with key relevant stakeholders who are on ground at the grass root
Youth leaders should be engaged by security agencies in mobilizing intelligence report and be natural in its dealings
There should be timely and stakeholder sensitization or voter education
INEC should collaborate with relevant stakeholders and leaders of political parties to make sure aspirants satisfy the requirements of the law.
INEC should sensitize men to allow their wives and women to participate in politics by voting and be voted for.
Town hall meetings for sensitization on voter apathy should be expanded to the grass root.
INEC should carry along political party leaders in their affairs and dealings with the public
Political party leaders should always educate and raise awareness of their followers of the positive development in the electoral process of the country
INEC and NOA should collaborate with CSOs and key stakeholders on year round voter education
Women leaders should be used to sensitize youths on voter apathy for a better tomorrow
INEC should work with political parties to increase confidence