REPORT OF THE 3-DAY CAPACITY BUILDING TRAINING ON GENDER AND SOCIAL INCLUSION MAINSTREAMING IN PUBLIC POLICY FOR WOMEN CHAMPIONS HELD AT TAHIR GUEST PALACE 5TH -7TH NOVEMBER 2021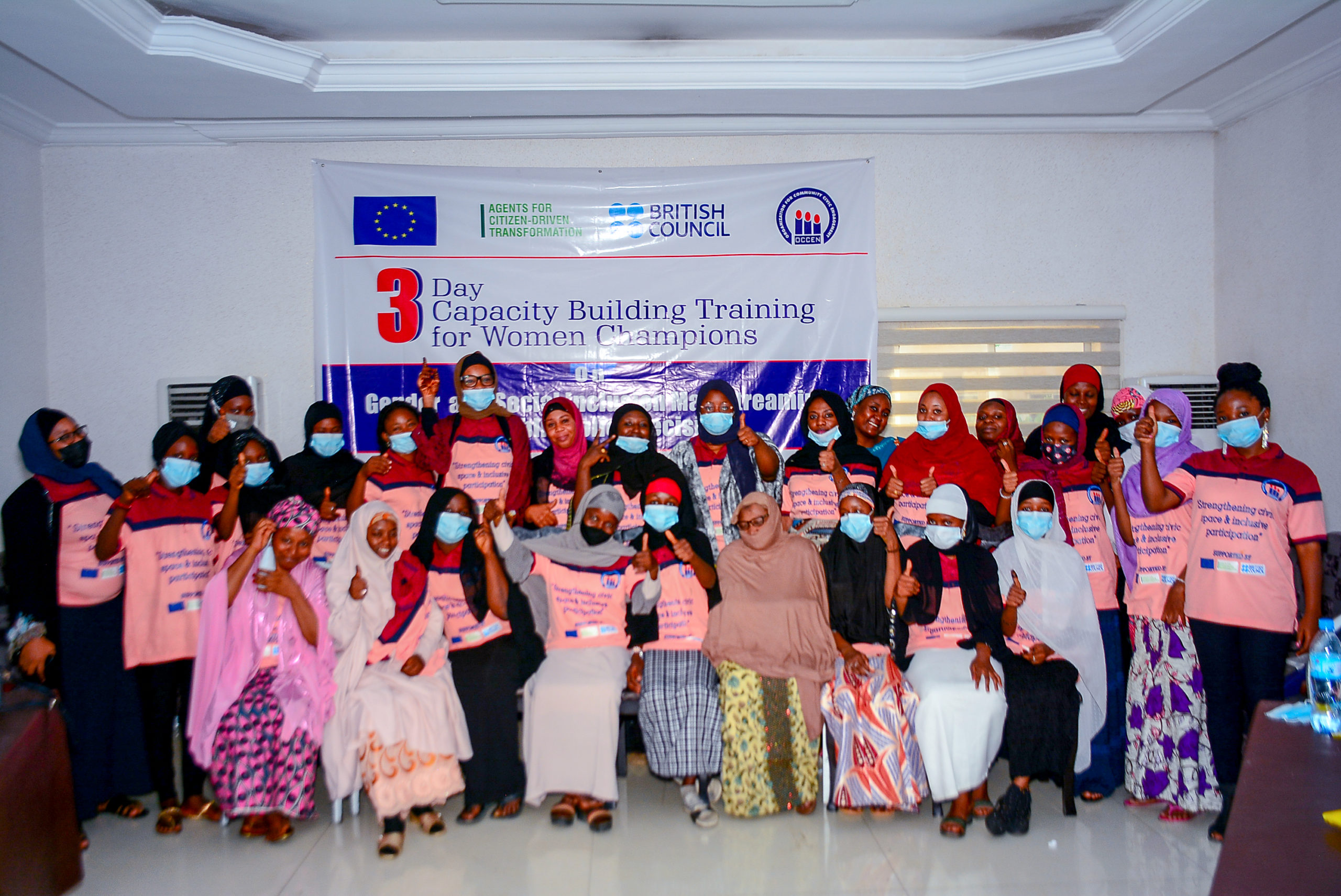 GENDER AND SOCIAL INCLUSION MAINSTREAMING IN PUBLIC POLICY FOR WOMEN CHAMPIONS
INTRODUCTION
The Organization for Community Civic Engagement (OCCEN) organised a 3-Day Training on mainstreaming Gender and Social Inclusion in Public Policy for Women Champions, a combination of young girls and women. This effort on strengthening civil society participation in public policy decisions in Kano State was supported by Agents for Citizens-driven Transformation (ACT) project implemented by European Union through British Council. The aim of the training was to create an enabling environment in which marginalized citizens (women, youth and people with disabilities), Civil Society Organisations and power holders can interact and engage each other on matters of promoting good governance, participation in policy decisions, demanding political accountability, and inclusive governance in Kano State.
Women, girls and PWDs are almost totally excluded from policy decision-making within their communities and the society in general; access to platforms where their priorities/needs can be channelled through such as active CSOs, public policy dialogue mechanism, and formal representation are weak.
Socio-cultural contexts as well as the fact that policy makers and service providers do not feel accountable, and are not responsive to women, girls, PWDs' priorities, serve as major factors for their lack of access to services and their inability to contribute to decision-making.
In view of this OCCEN with support from EU-ACT aims to strengthen the capacity of women, girls and PWDs to be better organized, identify their priorities, articulate their demands and engage policy makers for equitable participation in the policy making process in Kano State.
As a result, OCCEN invited thirty (30) Champions of marginalized groups (15 each for women and adolescent girls) for capacity building sessions on the following topics:
Gender and Social inclusion
Public Policy Making Process
Civic Education
Communication and Confidence Skills
Participatory Needs Analysis
Prioritization Skills
Leadership Skills
DAY 1- 5TH NOVEMBER 2021
After registration, introductions, and the overview of the project, participants were pre-evaluated on the Gender and Social Inclusion Mainstreaming. The participants were guided to differentiate between the concepts of gender and sex and understanding relevant gender concepts like stereotype, mainstreaming, equity, equality and social inclusion.
The second session focussed on the Introduction to the concept of Public Policy Process. In this session, participants were guided to understand the policy process and how they can contribute to the process. Group exercise on how they can contribute as sources of public policy was done. The participants were also engaged in a group exercise, which they actively participated and made presentations indicating understanding of the concepts.
DAY 2- 6TH NOVEMBER 2021
The session commenced with a recap of the previous day's sessions by the participants, and corrections were made. Two sessions were conducted on Participatory Needs Analysis and the Concept of Prioritization as they relate to gender mainstreaming in the policy process. Each session concluded with a group work and presentation by the participants. Participants actively contributed to the group work and made presentations thereafter.
DAY 3- 7TH NOVEMBER 2021
The recap of the second day by the participants was witnessed by the representative of ACT. She engaged the participants to ascertain the effectiveness of the training. Three sessions were conducted: Communication and Confidence Skills, Concept of Leadership and Leadership Skills as well as understanding the Concept of Civic Education. Practical demonstrations of communication barriers, lack of self-esteem was made, while the Executive Director of OCCEN guided them on the process of Community Civic Learning and OCCEN's expectations of their engagement of the communities around them. The session was closed with group photographs.
Attached are the power point presentation slides used to guide the facilitations.
Thank you for the opportunity to train and engage with these active and passionate champions.
Professor Aisha Abdul-Ismail